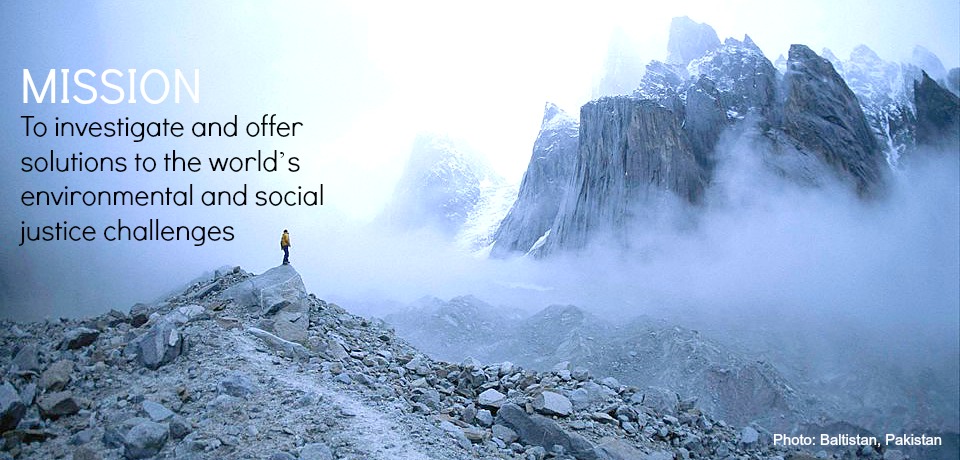 EARTH TRIBE MEDIA OVERVIEW
Earth Tribe Media ® is a non-profit environmental media organization registered in the UK with correspondents in Canada, Kenya, Thailand, UK and the US. It aims to improve world media coverage of the crucial environmental challenges of our time by providing news, insight, media training, publications and communications options.
The organization provides a news service for the general public, as well as offering training and communications options for journalists, non-governmental organizations and campaign groups, and grassroots communities.
In addition, it is working on a social network and communications platform to connect remote and underprivileged communities share stories, connect with themselves, and connect with the world.


NOT A TYPICAL 'GREEN' NEWS SERVICE

MISSION – To investigate and offer solutions to the world's environmental and social justice challenges

Earth Tribe Media is conscious that the issues of the environment and social justice cannot always be separated into exclusive departments. They are often intertwined. The organization's writ is broad – to examine issues from the top down but also from the ground up, giving voice to the voiceless and downtrodden.
NEWS AND ANALYSIS WEBSITES
The following is a brief outline of the organization's main news and analysis products:
EARTH NEWS ONLINE
www.earthnewsonline.org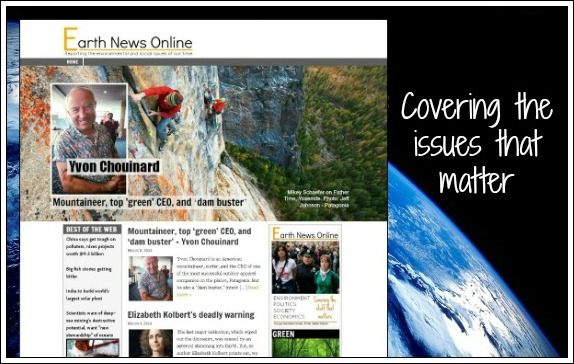 Earth News Online tracks efforts to transition from a destructive way of a life to one in which we live in harmony with the planet. We look at the challenges and the people, ideas and action on the road to a more sustainable future.
Our news service recognizes the need to rethink the systems of governance, business and law, and examines the issues on a a macro and a micro level – profiling the individuals pursuing change.
Earth News Online looks at the interaction and connections between the environmental movement and the social justice movement, recognizing that it is impossible to consider either one in isolation.
ACTIVIST NEWS
www.earthtribe.co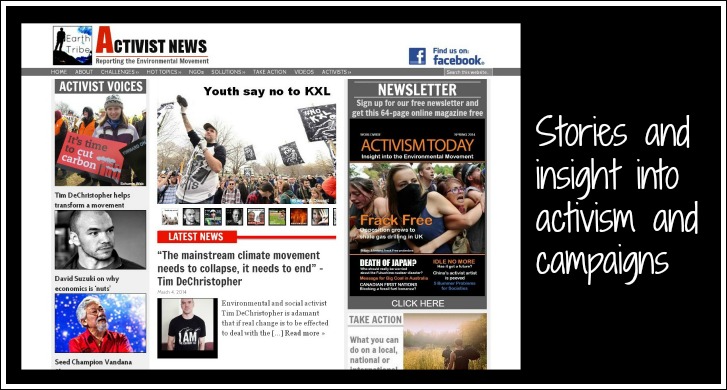 Activist News is a forum for people who want to take action to preserve our planet. We provide information, ideas, news, contacts and notification of actions taking place around the world so that that people can get involved.
Our emphasis is on taking action. There are a lot of "feel-good" activities people can do to convince themselves that they are doing their part for the planet. But our emphasis is on encouraging people to get to grips with the challenges, get out of their comfort zone, and make changes that really make a difference to the environment, all species and our fellow human beings.
FACEBOOK PAGE
Facebook Page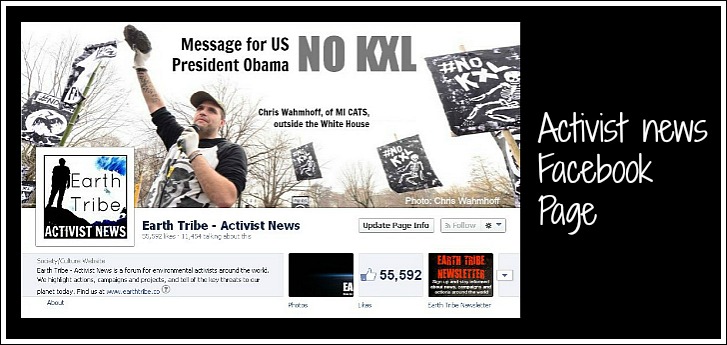 Earth Tribe – Activist News Facebook page now has over 55,000 followers and is continuing to grow by about 300 people a day.